Water damage repair is all-encompassing. Most property owners in Scarborough mistakenly believe that water damage restoration consists only of surface drying a property, but this is unsafe and inaccurate.
With the latest tools and skilled professionals at Instantly Restoration, we can extract and dry out the water from your property quickly. For both residential and commercial properties, we provide water damage cleanup and restoration services. Most importantly, with our prompt action, we can lessen your loss and prevent additional harm.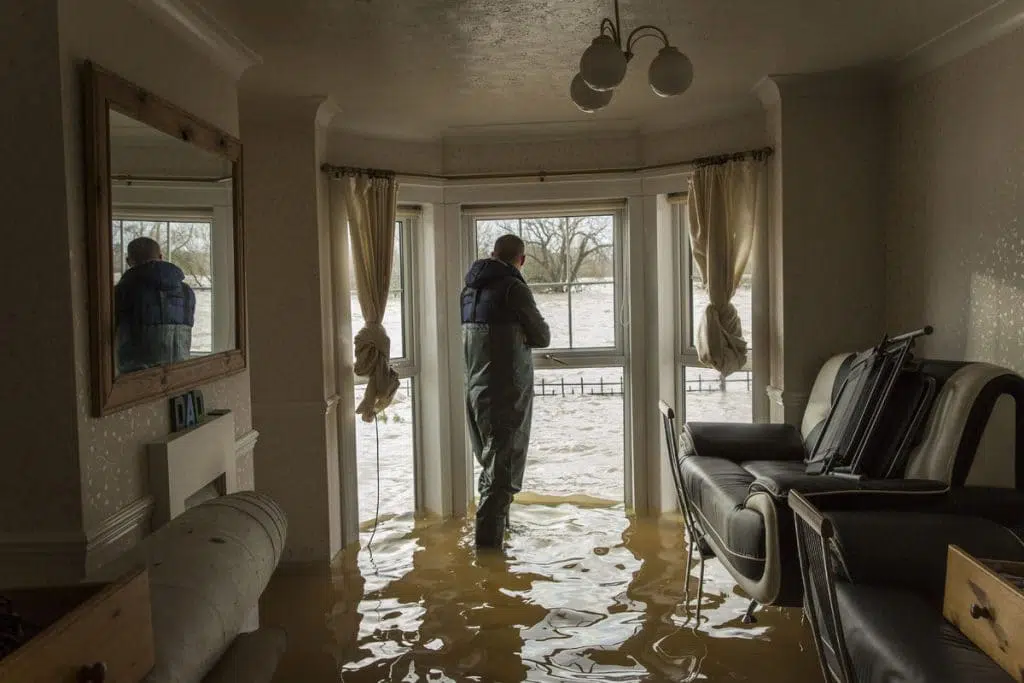 What causes water damage in Scarborough?
Numerous things can lead to water damage repair in Scarborough. The following is a list of frequent reasons for water damage:
1. Weather-Related Issues:
Heavy Rainfall: If drainage systems are overloaded, flooding may result from excessive rainfall.
Storms and Hurricanes: Flooding, storm surges, and water intrusion are all possible outcomes of extreme weather.
2. Plumbing Issues:
Leaking Pipes: A building's plumbing system can burst or leak, releasing a large volume of water.
Appliance malfunctions: If neglected, broken appliances such as water heaters, washers, and dishwashers can lead to water damage.
Floods: Widespread water damage can result from natural disasters like floods.
Earthquakes: On occasion, earthquakes can lead to leaks and damage to water lines.
Problems with the Sewer System:

Contaminated water may seep into residences or commercial buildings as a result of sewer system backups or obstructions.
5. Roof Leaks:
Damaged Roofing: Missing or damaged roof shingles can allow water to penetrate and cause damage to the structure.
6. Foundation Issues:
Foundation Cracks: Water can seep into crawl spaces or basements due to structural problems such as foundation cracks.
7. Humidity and Condensation:
High Humidity: Mold growth and other problems related to water can be exacerbated by prolonged high humidity levels.
Condensation: Inadequate ventilation can cause condensation to form on windows, ceilings, and walls, which encourages the growth of mold and water damage.
8. Improperly Sealed Windows and Doors:
Inadequate Seals: During intense downpours or storms, water may seep through windows and doors with inadequate seals.
9. Firefighting Efforts:
Water Used in Fire Suppression: Although fires must be put out, the water used in the process can contaminate buildings.
10. Human Errors:
Accidental Spills: Unattended water sources, bathtub overflows, and sink overflows are a few examples of accidents that can result in water damage.
Water damage must be dealt with right away to avoid more problems like the growth of mold, structural damage, and possible health risks. In order to accurately evaluate and minimize the damage, professional water damage repair services are frequently needed.
How do I fix water damage inside my house?
Water Damage Repair – 8 Important Advices
The amount and type of water damage within your home will determine how to repair it. The following are general actions you can take, but remember that you should always seek professional advice if there is significant water damage:
Remember, safety is a top priority. If the water damage is extensive or involves contaminated water, it's best to consult with professionals who have the expertise and equipment to handle the situation safely and effectively.
It is advisable to seek professional assistance if the damage is substantial or if you are unsure of its exact extent. Experts in water damage restoration can evaluate the circumstances and offer complete solutions.
If the water damage is due to plumbing issues, inspect and repair the plumbing to prevent future leaks.
Keep an eye out for signs of mold growth. If mold is present, it may be necessary to consult with a professional mold remediation service.
Material damage can be repaired or replaced, including flooring, insulation, and drywall. Make sure that every repair is completed completely to avoid problems later on.
The affected area should be cleaned and disinfected to stop the growth of bacteria and mold. Make use of a solution of water and gentle detergent.
Determine the source of the water and shut it off to stop additional damage if the water damage is the result of a leak, burst pipe, or any other persistent problem.
Make sure the electricity is off in any flooded area before you enter it to prevent electrical hazards.